Watch the music video for "Like In July":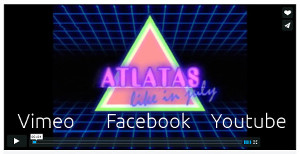 The EP "Mini Albüm" is available here: (iTunes,
Spotify
, Play Music,
Soundcloud
,
Bandcamp
,
Youtube
)
What remains of 90s music, if you take away all the ridiculousness? Squeaky, sticky-sweet synthesizer sounds, somewhere between Super Nintendo and Eurodance. Nervous, driving rhythms with drum samples that are currently also popular with the trap genre. Using these elements, Atlataş presents five mainly euphoric and coltish electro pop songs on his EP "Mini Albüm".
The lead singer of Munich indie rock veterans Kafkas Orient Bazaar has parted with old habits for his solo project: vocals that would be shouted or screamed in his band are now solemn with a pop vibe, intermittently supported by female vocalist Leonie. Instead of murky, mythically charged lyrics, you will find cheery sceneries. The producer, german electro-pop mastermind Norman Kolodziej (Der Tante Renate, Bratze), helped to give the songs a shiny, bright finish.